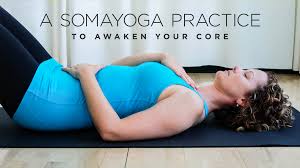 Join in this delightful self-nurturing day of yoga, contemplation, relaxation and just Being. Moving in the deep centre of your core. Soma, meaning the Whole Being we will work with calming the mind, relaxing the body, and being open to whatever shows up. We will take some time to journal what we are experiencing and what we are asking for. This is open to new and long time practitioners. No experience required.
This is meant for you if you are willing to explore silence, feelings, and dreaming. You will be guided through some slow exploration movements and quiet time to embody your experience. Required is curiosity and approaching your practice with inquisition.
Soma Yoga is the perfect opportunity to be curious about who you are. The journey to self-discovery begins now.
Yoga for every body

Holistic well-being

Nurturing & healing

Deep release and slow awakenings

Beautiful grounding space
Location: JUMAplus centre (same building as drugstore, 2nd floor)
87 chemin Old Chelsea, Suite 201, Chelsea, Québec, J9B 1K9
Time and date: May 25, 1:00 - 3:30pm
Cost: value $30.00
Limited space - PRE-REGISTRATION required. Your e-transfer will confirm your space.